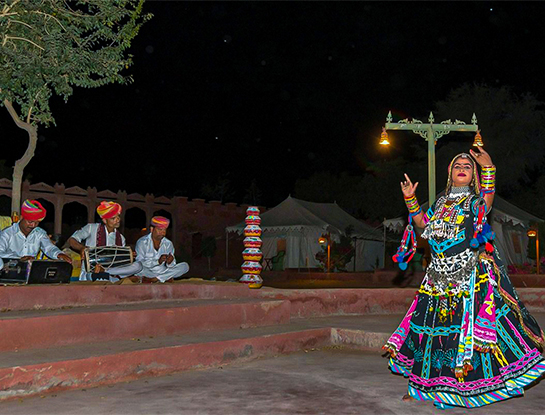 Cultural Evening Program
Osian camps and resort welcome you by traditional Rajasthani style. We compose all sorts of cultural events and Cultural nights in Osian with traditional dance and music of Rajasthan. We organize them according to Rajasthani themes like  Kalbeliya etc. for your entertainment. Evening Program represents traditional folk dance, music, and a campfire. We have well trained professional dancers and musicians, they perform in front of you under open sky. Our resort in Osian includes traditional Rajasthani cuisine and Indian cuisine for dinner. Plan the magical evening stuffed with the essence of Jodhpur, its culture, cuisine, and friendliness. The highlight of your stay with Osian Camps and Resort is our Evening program combined with a dine-in event that embraces your senses with mesmerizing peace. Get sustained by isolation on the rises with a cultural evening in Osian like a cherry on the top. Osian has rich authentic wonders filled in it which are waiting to be explore by the guests.
Desert Jeep Safari
The sizzling part of diving into the sands at the Thar Desert forcing you to reveal the appeal of the sterile way of the desert and village in Osian. A Jeep safari in Osian can be the best means to do as such. We organize desert jeep safari, in which we give you a tour in the sand dunes. The pursuit would make you sneak into the flawless atmosphere of Osian and the great design. The shades of the sun while sunset is a glimmering experience. Seize your seats on the Jeep safari in Osian and dive into the whirlwind twists from the beginning. Into the wild of the futile view, your blood levels will climb with enthusiasm and experience on an outstanding Desert Jeep safari we have to bring to the board. Sensational and exciting, this can be the ideal present for the adventure freaks.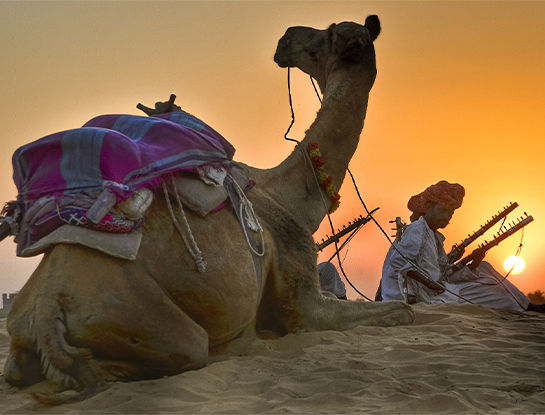 Desert Camel Safari
Watch the dusk while riding a camel in the Thar Desert on this whole day's visit to Osian from Jodhpur. You'll likewise have the opportunity to visit the Sachiya Mata Temple. While heading to the Desert Camel safari, you will witness the unforgettable sunset in the desert.  All over in the Great Indian Desert, you can intently savor the nature of the village. All hail to the ship of the desert, without which you can't expect to live in this desert climate. Your visit to Osian is fragment without this entrancing and astonishing desert safari in Osian experience. With the finely arranged visit and including every one of the significant attractions and exercises, not to neglect, the safeguard measures as well. Osian Camps and Resort try to serve you a remarkable desert camel safari near Jodhpur, experience filled with a satisfying atmosphere. Witness the artfulness and breathe of the extraordinariness of the desert which you don't want to miss at any price.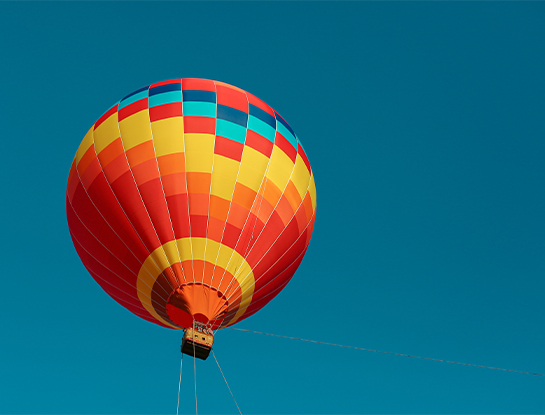 Hot air ballooning
Gets an incredible view of the town close by participating in your hot air ballooning at Osian Camps and Resort with your family or friends. The lovely picture of the Thar Desert can be grandly examined courageously as well as sincerely. Witness an experience that is a hit with each traveler to Osian. Take off high in the sky and witness a lot of legacies, natural beauty of the Thar Desert. The quietness of the beautiful distinction of Osian can be utilised stunningly better with hot air ballooning in Osian. Getting the 250-300 foot view of the ancient town will end up being a stunning encounter when you are in Osian. Examining the truly beautiful and appealing aspects of the temples as well as camel and jeep safari from the sky can be an extraordinary adventure in itself at Osian Camps and Resort.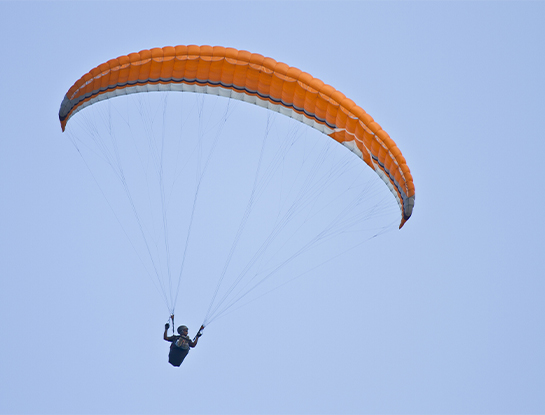 Para-sailing
Parasailing is the amazing adventure of floating through the air wearing an open parachute while being towed by a motorboat. Get a bird's eye view of the delightful Thar Desert while parasailing high above and let the wind guide your direction. Our group will ensure you're floating at a secure height and will be taking pictures of you. We will attach the parachute to the jeep so you will be at a significant height to see the brilliant view of Jodhpur. The crew on the ground will be managing your float for your complete comfort and security. The activity doesn't need any earlier preparation and can be performed by anybody, who isn't anxious about flying or of heights. It is an extraordinary method to feel free and relieved and has a great time without moving excessively far away from the town.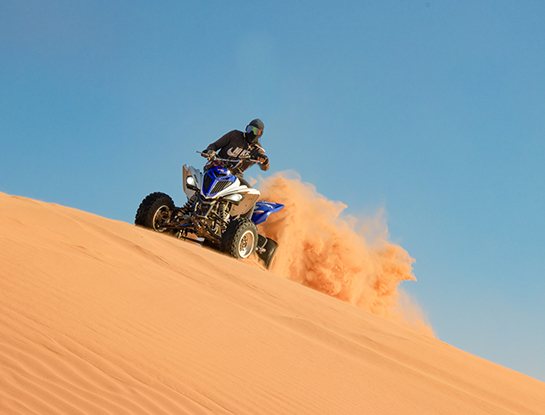 Desert ATV Rides
We present you freewheeling swashbuckler access with this astounding ATV ride in Osian. A quad bicycle that is called an off-road vehicle (ATV) is an adjusted three/four-wheeler. It is driven on low pressing factor tires and can be driven on any sort of track, liked on a rocky panorama. Grasp the opportunity to restore the sportsman spirit in you at Osian Camps and Resort. Drop all of your anxieties. As the ATV Adventure Ride is guided by experts who will give you adequate directions before you get right into it. You can pick a package that permits you to bike and explore the wonderful scenery nearby while riding in desert near Jodhpur. Get ready for an adventure of a lifetime with quad biking activity at Osian Camps and Resort near Jodhpur. Experience the joy of riding ATV in the brilliant ridges of Thar Desert.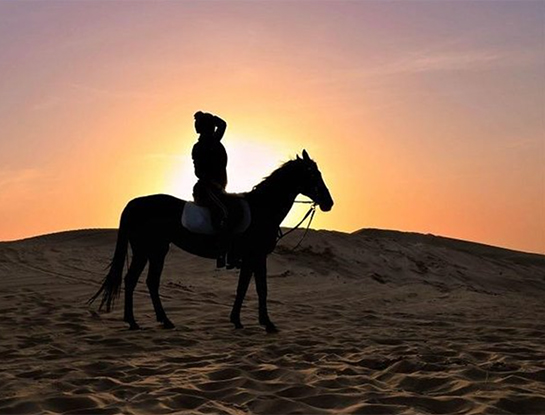 Desert Horse Ride
For quite a long time, horse safari has been utilized as a method of traveling, and times lapse for princesses, knights, citizens, and royalties. Indeed, even today, the activity is entrancing to the point that tourists demand taking a ride on their visit to Resort near Jodhpur. Furthermore, why they shouldn't, the horse riding permits them to see the entirely different side of Rajasthan that is unique and vigorous. Horse riding in the desert is itself a dazzling encounter and Osian Camps and Resort have all the approaches to make it a mind-blowing one. Travellers, if you are fantastic at exploring the fascinating charm and immortal glory of the King's Land, remember to add the exciting horseback ride to your plan for the day. For your next trip, if you also want to meet the true colours of Rajasthan uniquely then Osian Camps and Resort has the ideal horse safari package for you.
khichan Bird Sanctuary
Bird watching is consistently a fabulous experience to the eyes and their voice is music to the ears. That turns out considerably interesting and pleasant when it is in the desert in a small village Khichan (Kheechan) where Demoiselle crane called kurja in the nearby language given their sound visit each year in thousands making a spot to visit around Osian. Indeed, you read it right. Khichan Bird Sanctuary visit would serve you with an encounter that will fill you with adventure and empower you to saddle the excellence of nature surrounded by deserted nature. The Sanctuary, located in the mysterious realm of the Thar Desert, Kurja around Jodhpur, invites migrating birds from all regions of the world with a warm heart. Osian Camps and Resort will make a Khichan Tour experience for you that you'll always remember while these delightful little animals of Mother Nature make it much anticipated for you as of now.
Pre Wedding shoots
Wedding Bells are ringing; you would need wedding photos for your wedding memories. Then you are at the right place. We welcome you to Osian Camps and Resort– the ideal location for your pre-wedding shoot. Osian is known for its shocking desert scene, delightful dusks, and old sanctuaries. We are an excellent choice for creating the lifelong memory of your life with Extravagant, Lavish, Luxurious, Fun, and Unique ideas for your shoot in your budget. Our locations for the shoot are well famous for their heritage, arts & crafts, colors, and palaces are best suited for photography. The feeling of Royalty is always in the Air of Jodhpur. All team get up for your dream destination pre-wedding shoot and provide a rare event of a lifetime. Desert Safari Camp in Osian can be reserved for our shoots. For creating such an extraordinary memory; do visit Osian Camps and Resort near Jodhpur.